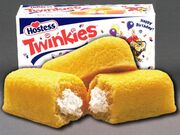 The Twinkie is the snack food Tallahassee is trying to get in the movie. Tallahasee finds some twinkies near the end of the movie but they had a bullet in it after Columbus shot the door thinking there was a zombie in it but it turned out to be a rat. Tallahassee finally gets his twinkie at the end of the movie when Wichita and Little Rock were about to drive away and Little Rock throws him a twinkie.
Ad blocker interference detected!
Wikia is a free-to-use site that makes money from advertising. We have a modified experience for viewers using ad blockers

Wikia is not accessible if you've made further modifications. Remove the custom ad blocker rule(s) and the page will load as expected.